14 of April, 2014
Drawing Tablets: A Cautionary Tale
I haven't actually worked on any major art for almost two weeks. Why? Because tablets 
TL;DR-
Yiynova-
-The WORST Driver Support
-Doesn't work with a lot of programs (Such as Toon Boom)
Monoprice-
-Doesn't like a lot of computers
-Drivers are super finicky
-Customer support is entirely cookie cutter
Cintiq-
-Nothing major, but make sure you have more than one hdmi support if you use one as your major monitor
     I have gone through three full tablets now, and to no luck whatsoever. I've had to either tweak the ever loving christ out of it, or return it. 
I don't want this to happen to you, so if you're shopping for a new tablet, check this out first 
My first Tablet was the Yiynova DP10u, a small tablet that I thought would do fine since I couldn't get my hands on a Monoprice. That was until I actually got the thing
The physical tablet was fine, if feels cheap, but other than that, the tablet pen was great and the screen worked great for me. This tablet is not a favorite for people who want "true color" in their art, but I didn't notice a difference. 
Getting the drivers to work was the most terrible experience I've had with the thing. It took me a full week of wasting my only free time to work getting everything copacetic. The tablet worked instantly when my girlfriend tried it on her computer, but everything fought me on mine. I ended up with a functioning tablet after almost 7 days of hours upon hours working on this stupid thing, experimenting with every archaic bit of advice I could find on google.
Their drivers are so obscure that not even google could come up with answers, and I figured it all out by stupid luck…after I filed for a refund. On top of that I found out it didn't even work with Toon Boom, which made it 50% useless to me!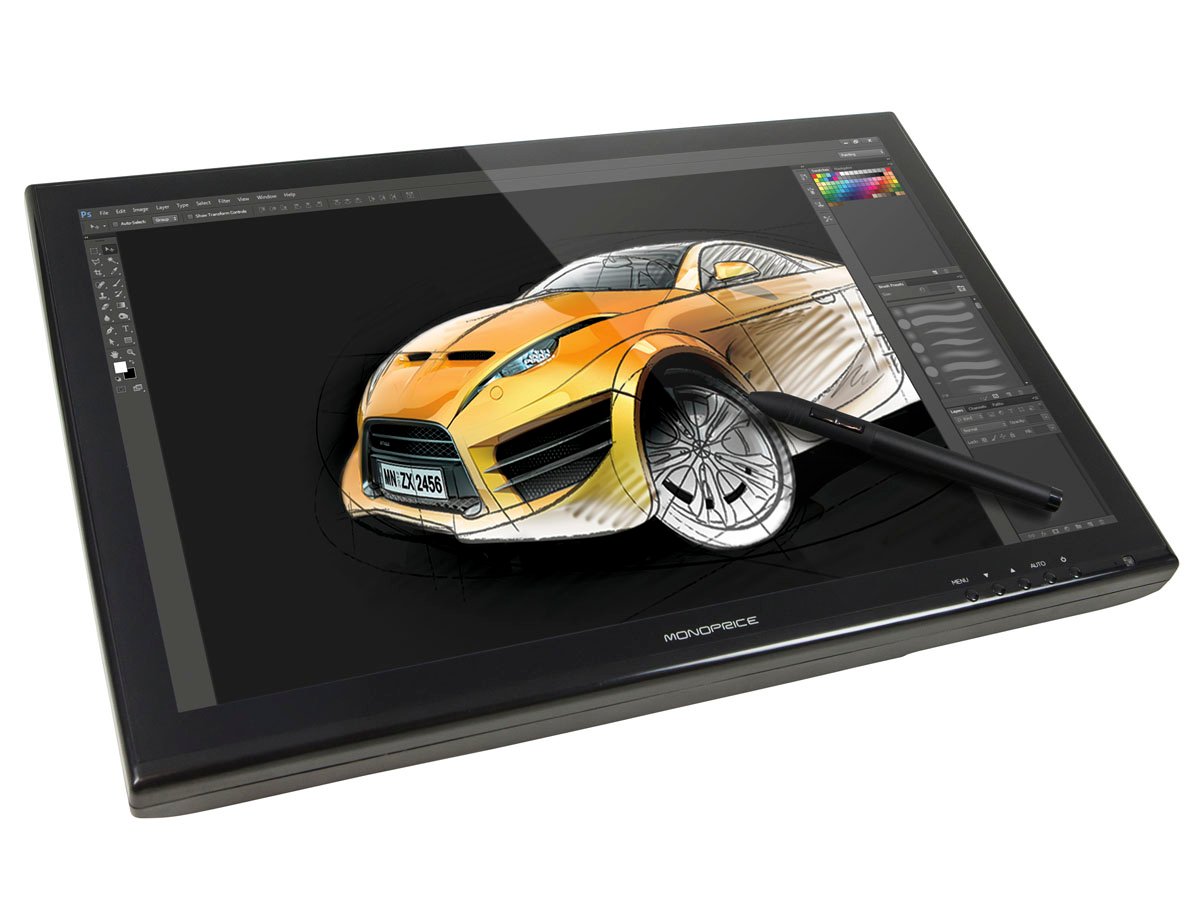 After that by sheer luck I found out Monoprice's 19' tablet was FINALLY not sold-out! I picked it up, waited eagerly, and was heartbroken to find it didn't work for me. 
I worked about five to six more days trying to get the drivers to work with this one, and couldn't get it to work for the life of me, which sucks! This tablet felt great, I loved the glass on the front, and the pen was great (Fully rechargeable too). The only thing that bothered me was the sweet spot you had to look it at, which promoted my awful posture too much. 
All of my effort to get this thing's drivers to cooperate resulted in the pen working, but the pressure sensitivity didn't work at all. Without that there is no point, I have to have that! So after all that I finally broke down and got a Cintiq
This thing is fantastic, but once again I just can't seem to catch a break! I only have one hdmi port and my speaker jacks don't function at all, so without another hdmi port, my monitor can only show video while I work on my tablet. Which means I have no sound, no music to listen to while I work! 
I'm currently in the midst of buying a hdmi splitter to hopefully fix this problem. 
I wanted to post this kind of information because I can't find these kinds of specifics online for these devices. If you have any questions feel free to ask or tweet me 
Posted 5 days ago
Tags: #Tablets #drawings #Drawing Tablet #Yiynova #Monoprice #Cintiq #Digital Art #Digital #Art
1 note